Movie magic turns tannery into North Pole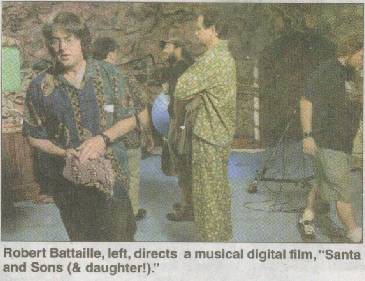 Thursday, May 27, 2004


By T.C. CRAIG

Register Correspondent


Napa's Tannery Row was once the industrial heart of the Napa waterfront. More recently, it has become a blend of art studios, non-profit spaces, and light industrial operations.


And most recently, it was morphed into a part of the North Pole.

Pope Valley resident and screenwriter/producer/director Robert Battaile used the site just south of downtown Napa for his film "Santa and Sons (& daughter!)." His production outfit Calexas Inc. wrapped up its final shoot of "Santa and Sons (& daughter!)" -- a musical, sci-fi, Christmas spectacular aimed at the child in everyone -- Monday on Tannery Row.


The production team also filmed in San Francisco, Benicia, Sacramento, and elsewhere. "It's a Bay Area thing, "says Battaile.


The story offers some unusual twists on holiday film fare. After more than two centuries of cookie hounding and gift giving, Mr. Claus decides to kick off his boots and retire. He appoints his three children -- Nicholas, Klause, and daughter Sandy --to continue the family venture. Sandy's love interest, Zwerkin, inventor of a teleportation device that solves the riddle "What does Santa do when there's no chimney?" becomes indebted to his profiteering employer, Menacin Snavely. Snavely gains control of the device and makes his way to the North Pole for a Yuletide showdown at the workshop.


"I wrote this story 25 years ago," says Battaile, who has not been sitting idle in the years since. According to the Calexas Web site, Battaile once made a living in Las Vegas as a Paul McCartney impersonator, and is also a songwriter, painter, and screenwriter. He studied at Rice University in Houston and St. Edwards University in Austin, Tex.


This is Battaile's first film. He hopes to release his film for television, "Maybe paid cable, (but) especially home video ... I'm not too worried about distribution," he said.


"In an ideal world, it would be a theatrical release."


Shot entirely with digital media, "Santa and Sons" cost a fraction of what traditional films cost without a sacrifice in quality. Reshooting scenes as often as needed, without the traditional worry of wasting precious film, is a benefit of the digital age. "The digital revolution happened, and that let us have enough equipment. What we are doing here would have cost millions," if the crew was using film, Battaile said. As it stands, the production has a total price tag of $300,000.


Silvin Battaile, Robert's son and a graduate of the Academy of Art College in San Francisco, is the cinematographer of the production. His other work includes work for Fox Sports and multiple international documentaries. He also heads up the company's offices in San Francisco.


San Franciscan Kimberly Jensen, who plays Sandy Clause, has performed in "Beach Blanket Babylon" and Off Broadway in "Gretel." Jensen's other work includes commercials, industrial productions and one TV pilot.


Napa resident Michael Waterson plays eldest son Nicholas Clause. Waterson has appeared in various Dreamweavers productions and has recently worked with Francis Ford Coppola on script development.


Retired librarian Catherine Schoen, a Napa resident who admitted to having very little acting experience, plays Ma Snavely, the villain's mother. "It is a small part," she said, "(but) it sounded like fun."


Plus, she said, "it's a paid production."


Napa resident Linda Fisher, who plays Mrs. Clause, was unavailable for comment as Battaile whisked her away for her scene.


In all, 59 people, most doing double duty, have contributed to the production. Thirty-five people form a full choir, appearing as the elfish choral ensemble. [Elf choir is VOENA - a choral group from Benicia and Napa under the direction of Anabelle Cruz.]


"(The) film has a good message," says Battaile, "(There) are so many networks, with so little kid programming." Battaile hopes to release "Santa and Sons (& Daughter!)" by Christmas.


from the Napa Valley Register